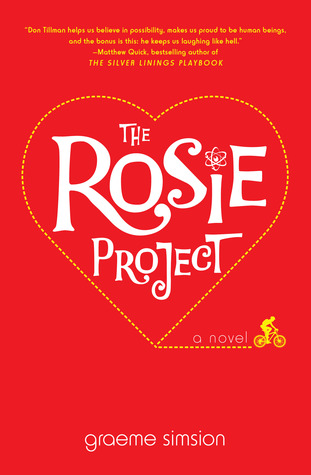 Starter Book –
Murmur
by Will Eaves. This is published as a novel; however it is based on the life of Alan Turing the English mathematician, computer scientist, cryptanalyst and theoretical biologist, amongst other careers. He was highly influential in the development of theoretical computer science and he worked with the British government during World War II.
Our first link is to Us Conductors by Sean Michaels, a novel based on the life of Lev Termen, the Russian scientist, inventor and spy who invented the musical instrument, the theremin. As Alan Turing did for Great Britain, Termen worked for his government, Russia, during WW II. We also learn of his love interest and yearning for a normal life.
Staying with highly educated men, let's turn to The Rosie Project by Graeme Simsion, a novel again but this time based solely on a fictional character. Professor of Genetics, Don Tillman sets out to find the perfect partner and creates the Wife Project in an evidence-based manner. The story is highly entertaining and very funny.
Moving on with a highly entertaining book and plans, we go to The Best Laid Plans by Terry Fallis. This is a humorous story about a political aide who must find a last-minute candidate for a Canadian election in a riding that is not apparently winnable. He bargains with an engineering professor, convincing him to file candidate papers by agreeing to teach in his place,
the required introductory English class to first year engineering students. The story is based in a small town just east of the Canadian capital of Ottawa.
Now that we are immersed in Canadian politics we can now link to the autobiography of a former Canadian politician who was a Member of Parliament and a Senator, Whelan: The Man in the Green Stetson by the Honourable Eugene Whalen.
So away from politics but staying in Canada, we go to the province of Newfoundland and Labrador to find Newfoundlander author Bernice Morgan's beautifully written story Waiting for Time, the continuing story from her first novel Random Passage about the Andrews family forced to flee from England to find themselves on the forbidding shores of Newfoundland.
Waiting for Time

i

s a family story told over several years, we can then connect next to A Good House by Bonnie Burnard. This chronicles 50 years of an ordinary family, the Chambers, living in Ontario, through the joys, tragedies and disappointments of their lives.
With the exception of The Rosie Project, we have used books written by Canadian authors and books read by Muse & Views Book Club over the last 21 years.
If you wish to see what others connected to the starter book go to Six Degrees of Separation. and read first of all, the meme that our fearless leader Kate has written and others posted in the comments.